Gift of Life
Brick Walkway
Search & Maps

We maintain the
Gift of Life Brick Walkway
in Rose Park. It is in the center of the Sculpture Garden. The original walk is roughly in the shape of a T. There are over 600 bricks in the walk. The new section is a straight path to the west. Bricks in the T are placed in three sections:
• the base (B), with rows reading from the junction to the bottom of the T;
• the top left (L), with rows reading from the left end to the junction; and
• the top right (R), with rows reading from the right end to the junction.
The top of the T faces North, and the base is adjacent to the butterfly flower garden maintained by chapter members and other volunteers. As of the 2012 dedication, there is a New Pathway that is connected to the West of the flower garden.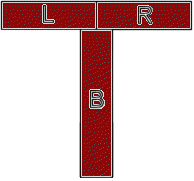 Look for brick locations on the Brick Walkway
Name (or partial name)
Hint: you don't need to enter a full name.
Simply enter either the first or last name--or just a part of a name. The search is NOT case sensitive, so you don't have to worry about upper or lower case. Just type in all or part of the name you are looking for, and press the Enter key or click the Search button. For example:
• enter "liz" (without the quotes) and get names like Liz, Elizabeth and Liza
• using "tod" will find names like Tod and Todd
• short values like "ty" usually occur in both first and last names (i.e., Betty, McGillicutty, Kristy, Ty, and Tyler)
• if you do enter a full name, you will need the period after the middle initial (Hans J. Walker or hans j. walker)
Wide Angle View
Closer View
Flower Garden
New Pathway
Click on an image for a larger view.