December 2021 Worldwide Candle Lighting® Ceremony In Rose Park

Sunday, December 12th, 6:45 PM in Rose Park (weather permitting).
Turn North from Grand Avenue at 21st Street West.

Candles will be lit all around the world in memory of our children, grandchildren & siblings. Please join us in lighting a candle either from home, or you are welcome to join us at the shelter in Rose Park at 6:45 PM next to our memorial garden where we will light candles promptly at 7:00 PM and have a short service in memory of our loved ones. Please bring your own candle.

Our tree will be decorated & you may bring an ornament to place on the tree if you wish. Please know that TCF will not be responsible for returning these ornaments.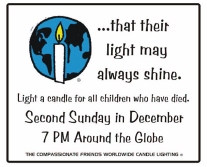 << Click left for information from the National Organization.
Click Right >> for the National Organization's video.